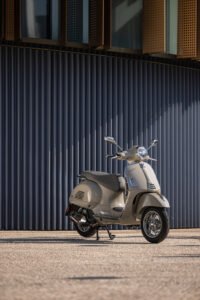 What is it?
The Vespa GTS (Granturismo Sport) is the flagship scooter from the Italian marque.
Originally released in 2005, the big-frame Vespa has been in a state of constant evolution, culminating in the new 2023 model.
Available in Classic and GTS SuperSport variants, Vespa are hoping they have something for everyone in what's one of the most premium scooter packages available in Australia today. But when the fully recyclable steel body looks this good, while still being made in the original factory (Pontedera, Italy), many will be happy paying that little bit extra.
What's it like to ride?
Like all big-frame models since 2005, the GTS is ergonomically one of the most comfortable scooters on the market. The new model takes it up a notch with wider bars, that set the shoulders back and allow for sturdier counter-steering, while the re-designed front suspension eliminates that infamous 'chatter'.
The engine specifications don't look too different on paper, but the fuelling is noticeably smoother and crisper then previous models. Accelerating from Melbourne's 50km/h suburbs straight into 100km/h motorways was ultra-responsive, and if you're someone that takes a pillion once in a while, then you'll appreciate the 26Nm of torque on tap.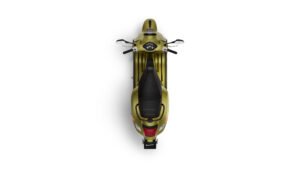 Who's it for?
With great dimensions, stability and manoeuvrability, it will comes as no surprise that the GTS 300 makes a great commuter. But to say that's all it's good for, would be selling it short.
There's no scooter on the market that blends so much heritage, material selection, build quality, performance, and reliablity, while simoutenaously being one of the most fun to ride.
There's certainly better value scooters on the market, but not many of them are able to handle motorways and pillion riding as comfortably, and even fewer are able to look so good while doing so.
The Vespa GTS 300 is all things to all people.
Rideaway pricing + colours
Vespa GTS Classic 300
Colours: Beige Sabbia, Nero Vulcano and Verde Relax
$13,230
Vespa GTS SuperSport 300
Colours: Bianco Innocenza, Nero Opaco, and Verde Olivie
$13,530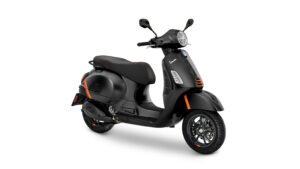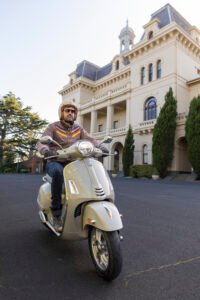 What are its features?
Engine: Piaggio 278 cc 4 stroke single-cylinder
Performance: 17.5 kW (23.8 HP) @ 8250 rpm, Max Torque 26 Nm @ 5250 rpm
Body: recyclable sheet metal with welded reinforcements
Front suspension: Single-sided swingarm with coil spring
Rear suspension: Double hydraulic shock with pre-load adjustment
Brakes: Hydraulically operated 220 mm stainless steel discs (ABS)
Wheels: 12″ Die-cast aluminium alloy with tubeless tyres
Fuel tank capacity: 8.5 litres
CO2 emissions: 75 g/km
Consumption (WMTC cycle): 30.3 km/l
Length/Width/ Wheelbase/Seat Height (mm): 1980 / 765 / 1380 / 790