Tell us about your background as a designer?
Adam and I (Dale) completed a 2-year furniture design course at RMIT before going on to complete honours in Industrial Design also at RMIT. We had a lot in common both coming from outside Melbourne: Adam travelled from Geelong to study, and I moved from Bendigo to study.
As we began Dowel Jones unofficially in our 3rd year of Industrial Design, our background in design has had a lot to do with Dowel Jones evolving as we evolve as designers. Prior to Dowel Jones, Adam worked as a CNC machinist for a Geelong business, and I was a personal assistant to an architect.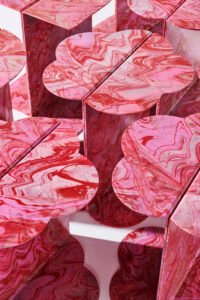 What is Dowel Jones?
We are formally a furniture, lighting, and accessories brand. Until 2019, we ran the brand much like any other furniture brand. When most of us went into the first lockdown, we decided to start using our social media accounts to take an interest in the people around us and to try and get them actively creating. This is where our Design From Home Competition came from.
Since that time, we now regularly use our social media platforms to instigate competitions, games, and all sorts of activities that are relatively unrelated to furniture and design more broadly.
What is your favourite Dowel Jones piece and why?
I think the Sister collection might be our favourite Dowel Jones piece, and it's mostly because of the way the collaboration happened.
I first met Tom Hancocks (who is New York-based) in Melbourne over coffee as we'd been speaking online. I think we both quickly realised how similar we were, and so started talking about how we could formally work together.
Tom ended up producing a series of chair renderings, being that he is a 3D artist and designer, and we took the renderings and turned them into a physical product over the following year.
What area of design would you like to try next?
Over the last few years, Dowel Jones has become a lot more fluid. We released our first limited edition collection of pieces on the 1st of September in collaboration with Acid Flwrs, and we were surprised to sell out in 1 day.
We're now working with a broad range of creatives on collaborations outside of what Dowel Jones usually produces and pushing us into new territory. We've always been interested in the work that other creatives are producing around us, so we hope that we're adding to the design field with unconventional collaborations.
Who are some of your favourite local designers?
We follow a lot of local Australian creatives and so it's a difficult question!
What Curio Practice is doing with Australian merino wool is incredibly exciting, and I'm not just saying that as we have plans to work together.